CAMPER RENTAL HAUG
RENT A MOTORHOME IN MUNICH & DACHAU
CAMPER RENTAL HAUG
RENT A MOTORHOME IN MUNICH & DACHAU
Note: The vehicles are disinfected with an ozone generator before each rental.
RV rental | Motorhome rental Haug
Unsere Wohnmobilvermietung/Wohnmobilverleih mit neuwertigen vollausgestatteten Modellen – Kastenwagen – Teilintegriert – Vollintegriert – alle mit Klima im Aufbau – zum Teil mit Automatik – zeigen euch ganz neue Wege des Verreisens mit Mensch und Hund.
Independent in the motorhome. The new trend for camping and vacation.
RENT YOUR MOTORHOME IN 3 EASY STEPS
OUR MOTORHOMES TO RENT IN MUNICH & DACHAU
Our mobile home rental / mobile home rental in Munich and Dachau offers you mobile homes from KNAUS. You can rent the motorhome models KNAUS SKY WAVE 700 MEG 60 YEARS, KNAUS SKY TI PLATINUM SELEKTION 700 MEG, KNAUS VAN TI 650 MEG VANSATION and KNAUS BOXSTAR 600 LIVETIME XL as well as KNAUS BOXSTAR 600 SOLUTION in Munich or Dachau.
KNAUS SKY WAVE 700 MEG 60 YEARS
Automatic | Air conditioning
It's nice when you have a fold-down bed, even better when you can't see it at all. Just like in the KNAUS SKY WAVE.
KNAUS SKY TI PLATINUM SELECTION 700 MEG
Automatic | Air conditioning
The bestseller in perfection: As an extensively equipped special model, the SKY TI is now available as the PLATINUM SELECTION special model. Benefit from many extras.
KNAUS VAN TI 650 MEG VANSATION
 Aircondition
The KNAUS VAN TI is made big enough for that real motorhome feeling, but compact enough for winding coastal roads. Despite all the equipment, the narrow motorhome is only 2.20 meters wide.
Air conditioning
Partly integrated
Navigation & TV
140 PS / 3.500 kg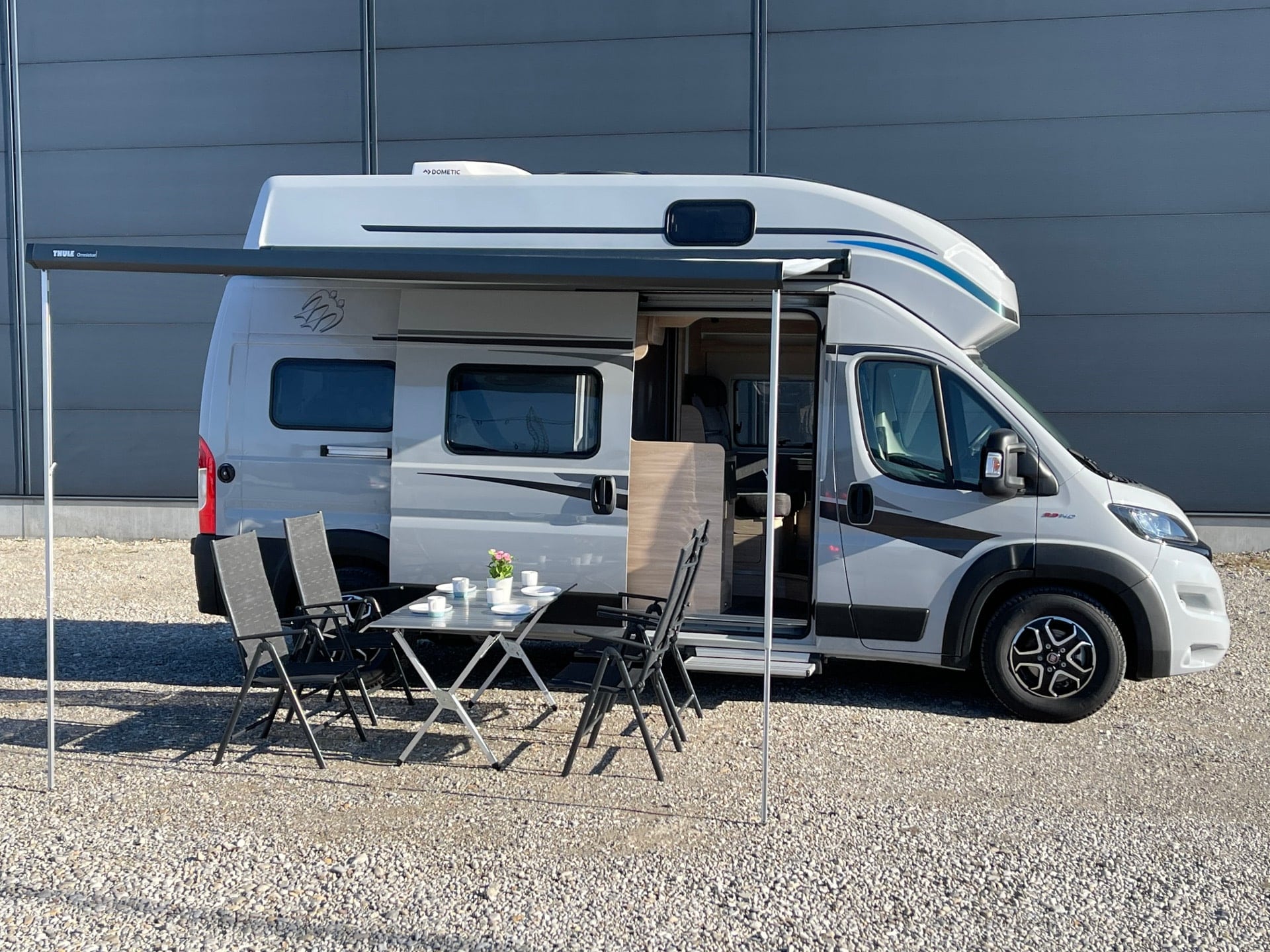 KNAUS BOXSTAR 600 LIVETIME XL
Aircondition
It's hard to believe how much equipment fits into a CUV - and how elegant a compact vacation vehicle can look.
Air conditioning
Box Van
Trailer Hitch
Navigation & TV
Open bathroom
140 PS / 3.500 kg
KNAUS BOXSTAR 600 SOLUTION
Aircondition
The KNAUS BOXSTAR 600 SOLUTION is the most compact temptation since the open bathroom. Thanks to the large transverse bed in the rear, as well as a toilet room and bathroom, nothing is left to be desired.
Box Van
Air conditioning
Trailer Hitch
Navigation & TV
Open bathroom
140 PS / 3.500 kg
Für zwei Wochen durften wir unseren Urlaub in einem sehr komfortablen Wohnmobil verbringen. Von der Übernahme des Fahrzeugs bis zur Rückgabe funktionierte alles perfekt. Wir liebäugeln schon mit dem nächsten Urlaub mit einem "WoMo" von Herrn Haug.
Thomas Viering
2022-05-08
Zu erst mal ein Danke schön für die nette und ausführliche Einweisung in die Technik dieses Fahrzeugs. Wir waren 9 Tage mit dem Womo unterwegs und hatten keinerlei Probleme. Die Ausstattung war sehr umfangreich und es wurde an Alles gedacht was man brauchte. Mit dem Womo war es trotz der 7m Länge kein Problem auch auf den engsten Strassen zu fahren und zu rangieren. Die Betten waren sehr gut und man hatte wirklich ausreichend Platz. Wir können Herrn Haug und seine Womo's nur empfehlen und werden auch wieder bei ihm eines anmieten.
Alles top! Mega Urlaub!
Herzlichen Dank an Herrn Haug für unseren ersten Wohnmobil Urlaub, 4 wundervolle Wochen in Portugal und Spanien. Wir waren totale Neulinge und hatten anfangs bedenken, ob das alles so funktioniert, aber Herr Haug hat uns schnell alle bedenken genommen und sich richtig viel Zeit gelassen bei der Einführung. Toll war auch, das wir das Wohnmobil einen Tag früher als gebucht abholen durften um uns noch etwas vertraut zu machen. Auch war er immer für uns erreichbar bei Fragen. Das Wohnmobil war wie neu und es hat alles ganz einwandfrei funktioniert. Wir freuen uns schon auf den nächsten Urlaub mit dem Wohnmobil von Herrn Haug. Liebe Grüße Andrea und Gerd Bratke
We rented a camper from Mr.Haug to stay around southern Germany in November 2021. The Camper is in good condition, safe and comfortable, the various functions of the Camper were also explained in great detail by him. At that time, we happened to encounter the COVID-19 pandemic. Fortunately, Mr.Haug was very enthusiastic and attentive to help us solve many travel problems. this is very important to the foreigners like us, so we speciallt want to say thank you to him.
Meine Anfrage kam SEHR kurzfristig, hat aber trotzdem geklappt. Der Kontakt mit Herrn Haug war sehr angenehm und der Wagen gut gepflegt und auch die angefangene Gasflasche wurde noch mal gegen eine neue getauscht obwohl noch eine volle zusätzlich an Bord war. Beim nächsten mal gerne wieder hier mieten
Wir haben uns im Oktober für eine Woche das Wohnmobil VAN TI 650 Vansation gemietet. Die perfekte Übergabe war sogar schon einen Tag zuvor. Herr Haug hat sich für die Einweisung richtig viel Zeit genommen, so dass wir mit einem sehr guten Gefühl auf Reisen gehen konnten. Das Wohnmobil war fast neu, perfekt ausgestattet und picobello sauber. Die Rückgabe lief auch absolut reibungslos, und die Kaution wurde sofort überwiesen. Das nächste Wohnmobil werden wir ganz sicher wieder bei Herrn Haug mieten.
War ein angenehmer und reibungsloser Ablauf - auch sehr fair was einen kleinen Schaden im Camper betraf. Würde hier jederzeit wieder mieten!
Herzlichen Dank für unseren 1. Wohnmobil Urlaub mit Hund. Die Einführung war super. Herr Haug machte es möglich, unseren Urlaub um 1 Woche zu verlängern. Das Wohnmobil war top. Super Ausstattung. Einfach genial. Wir haben in 4 Wochen die Ost und Nordsee bereist. Es war ein Traum. Wir können unseren netten Herrn Haug nur weiterempfehlen. Die Übergabe vor und nach der Reise war absolut korrekt und unkompliziert. Jederzeit wieder. Dies war unser schönster Urlaub den wir je hatten. Vielen Dank Herr Haug.
Melde mich spät, aber doch noch. Als Neuling hatte ich bei Haug Wohnmobilvermietung einen Camper Anfang November gemietet und hatte zunächst schwerste Bedenken, ob ich damit zurechtkomme. Herr Haug hat sich bei der Abholung sehr viel Zeit genommen und mir eine tolle Einweisung gemacht. Auch als ich unterwegs war und Fragen hatte, war er immer schnell zu erreichen. Fragen kamen einmal wg. der Einstellung der Heizung auf, was aber schnell geregelt wurde. Ich kann mir nicht vorstellen, dass Service besser geht. Vielen Dank Herr Haug. Gerne wieder in diesem Jahr. Hoffentlich wird es nicht zu voll! Felix Meister
MOTORHOME RENTAL MUNICH & DACHAU

CONTACT US TO BOOK A MOTORHOME FOR YOUR HOLIDAY
Rent a motorhome in Munich or Dachau
Mostly, mobile homes are desired for camping and vacations with changing locations and are rented from a mobile home rental company in Munich or Dachau, for example. Mobile homes are also often rented by business travelers and assembly workers, or used as a mobile office at different workplaces. Therefore, the request for the rental of mobile homes is increasing, with our mobile home rental in Munich and Dachau we offer you the opportunity to rent a mobile home in Munich or Dachau and to go on a mobile home trip.
In contrast to conventional trips, when you travel with a motorhome, the journey is the destination, because on the trip you can visit many countries, cities and places that are worth a trip. Those who camp on vacation love freedom and nature as well as of course traveling with a motorhome. More and more people recognize the advantage of a motorhome trip and prefer to rent a motorhome and thus be able to forget everyday life and experience a stress-free vacation with complete freedom and relaxation.
Motorhome rental Munich - Simply rent, drive off and enjoy
We love camping and with our mobile home rental in Munich and Dachau we offer you the opportunity to get to know new countries, cities, places, cultures and regions and to travel to the countries of the world. Our mobile home rental in Munich and Dachau with currently 5 current models, including 2 mobile homes with automatic and all with air conditioning under construction, fully integrated, partially integrated and box vans - show you completely new ways of traveling with humans and dogs, in order to be on the move with the whole family go and explore the countries of Europe or the most beautiful regions of Germany.
Motorhome rental Dachau- Simply rent, drive off and enjoy
If you want to spend your vacation with a mobile home and enjoy the freedom and nature, you can rent mobile homes from us in Munich or Dachau. Our motorhome rental in Munich and Dachau is guaranteed to have the perfect model to rent for every trip. When choosing a motorhome, we are at your side with our experience to advise you.
RV rental - RV rental Haug in Munich and Dachau